Issue 13 - Heinz on TikTok, Shopify + TikTok, and Manchester United on TikTok
Make sure you subscribe to receive new issues of Good TikTok Creative!
Welcome to Good TikTok Creative!
We are Simon Andrews and Anthony McGuire, two people who have been working in marketing, advertising and media for decades.
We are very excited about TikTok as a brand new platform for creativity and think this topic is severely under-explored.
---
TikTok Case Study #13 = Heinz's #HeinzHalloween
Simon's Take:
I worked on Heinz advertising a million years ago and a key insight was that everyone had the product in their home - so the role of advertising was to drive usage through reminding people how much they enjoyed the Heinz Beans / Soup / Spaghetti / Ketchup, etc. That usage would bring forward the next purchase.
For this Halloween campaign Heinz recognised that everyone has Heinz Ketchup and by using a simple transition (and the #HeinzHalloween hashtag) they owned the holiday - with over 3 billion views. Especially as Covid precluded the more traditional ways to celebrate Halloween.
Talking about Tiktok a few months ago, a very senior media exec was telling me how he was amazed at how the app unites families - he told me his kid's enthusiasm to make a TikTok had led to 3 generations of his family working together all afternoon to make their opus.
Whilst you could win a bottle of Blood Ketchup, what drove this campaign to 3 billion views is the fun these families had making their TikTok. And for a brand to facilitate such fun guarantees the role of that brand in the home. None of these creators or viewers is going to be in the market for an alternative product any time soon.
And all that extra usage as blood, brings forward the next purchase. Text book CPG marketing, reinvented for the #PlatformShift.
Anthony's Take:
My gut reaction around holiday-themed advertising is usually skepticism. It's easy to get things wrong by force-fitting your brand to be relevant on Valentine's Day, Christmas, etc.
In honor of our most recent Halloween, the classic brand Heinz used TikTok to celebrate the fun. And since ketchup is the ultimate condiment for creating fake blood, Heinz has a Halloween marketing angle in perpetuity!
Without trying to overstretch a concept or try anything too clever, the #HeinzHalloween challenge was a simple brand building exercise that was accessible to everyone. And to Simon's point, it was especially accessible for families, who were already dressing up or making arts and crafts for Halloween.
By adding a sweepstakes element of giving away free ketchup bottles, Heinz adds just a little bit more incentive for people to come together and submit their own videos. It's kind of a crazy formula when you think about the premise. For a chance to win 1 of 570 bottles of Heinz 'Blood' Ketchup, there was enough content created to result in 3.1 billion views!
---
TikTok has just announced a partnership with Shopify, making it easier for e-commerce merchants to drive purchases from TikTok. For those of you who don't know, Shopify is an all-in-one ecommerce platform that powers millions of small-to-medium sized online businesses. The partnership will likely get deeper over time, and I foresee a world where you can buy e-commerce products directly 'in-app' on TikTok.
Part of this is clearly inspired by Douyin, the Chinese version of TikTok. If you look at the content on Douyin, people can already make purchases like hotels, gift cards/vouchers, and apparel without having to leave the app.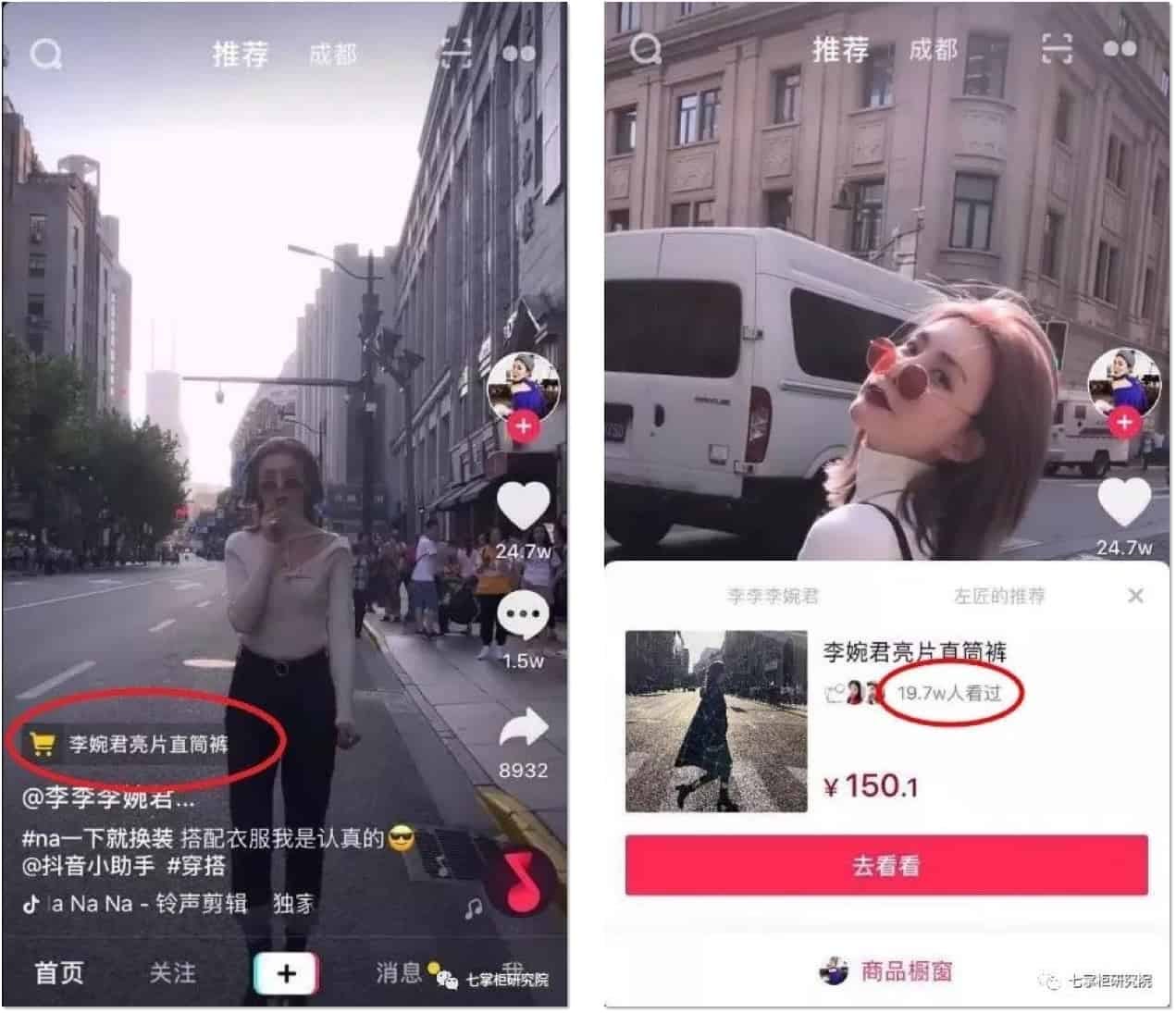 Commerce or 'social commerce' is the next big thing for TikTok in 2021, and this new Shopify partnership is just one step in the bigger plan. This is also something that is being watched closely by TikTok's competitors like Instagram and Snap.
---
Manchester United, one of the world's most famous football teams, put out a lot of official press last Friday to make the announcement that they are now on TikTok.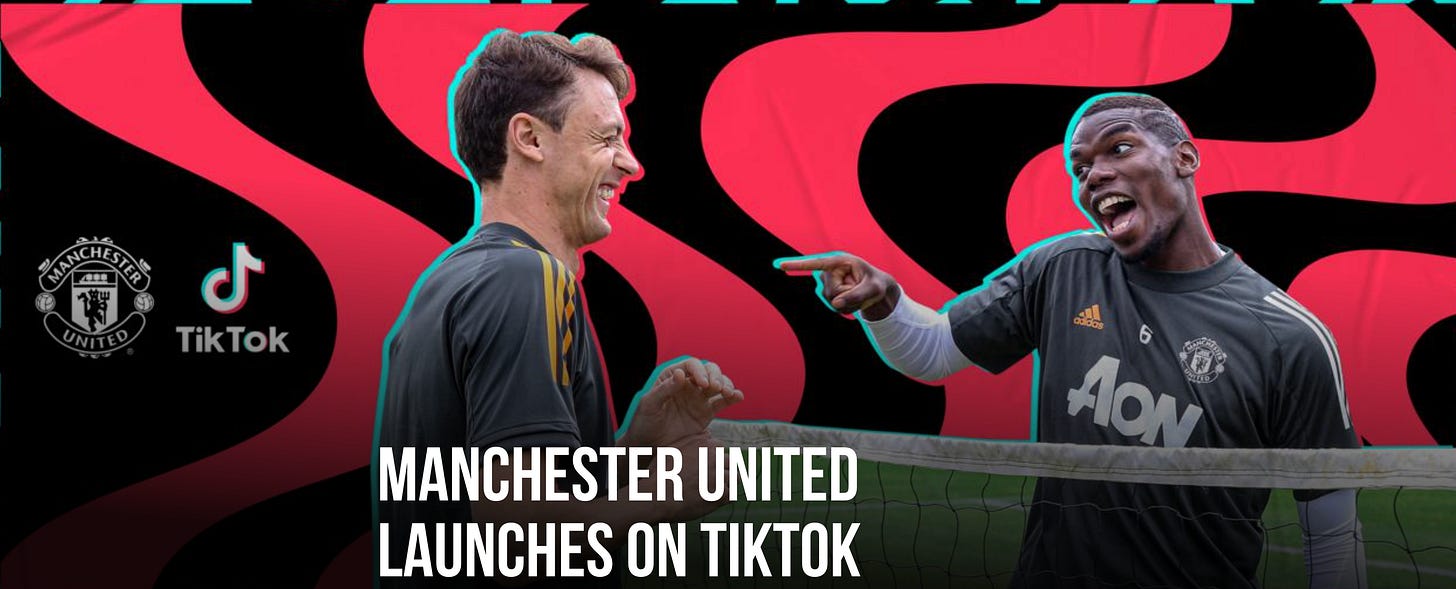 While it's great to see this, we are very quick to point out that many football clubs have been on TikTok for a while. Simon has pointed out that Sheffield United has been on TikTok for a while and Anthony included Chelsea's account in his TikTok course months ago.
Whichever team you are rooting for, Manchester United's announcement does lend a level of legitimacy to TikTok that few other teams can match. One lesson to keep in mind, however — the earliest adopters aren't always the biggest, whether you're talking about brands, sports teams, or celebrities.
What's next? We have to see how well Manchester United actually uses TikTok!
---
If you want to dive deeper into TikTok, check out Anthony's TikTok crash course.
Have you seen good creative on TikTok recently? Let us know and we can feature it in a future newsletter.
---